Loopio Wins Greater Toronto's Top Employer Award for 2022
Loopio named one of the top 100 best workplaces in the Greater Toronto Area.
Loopio, the leading Request for Proposal (RFP) response software provider, is proud to announce it has been named one of Greater Toronto's Top Employers for 2022.
Read More: SalesTechStar Interview With Jason Davis, Senior Director Of Sales And Marketing Practice At BTS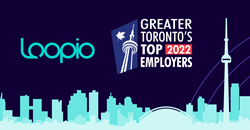 The Top Employer competition recognizes employers that have progressive HR programs and policies. Now in its 15th year, the awards set the benchmark for modern workplace best practices. Workplaces are evaluated on criteria like work atmosphere, benefits, performance management, skills development, and community involvement.
Loopio stood out for its comprehensive benefits packages, flexible vacation and remote-work policies, outstanding employee communications and recognition, and exceptional training and learning programs.
"The People team at Loopio is incredibly thoughtful about the programs we create for our employees (also known as Loopers)," says Alexis MacDonald, Loopio's Vice President of People. "Winning this award affirms that the time we take to listen to Loopers—and adapt to their feedback and changing needs—is helping us create a world-class employee experience. It also shows how well we've intentionally transformed into a remote-first workplace since going remote in 2020."
"I'm proud to see our team's incredible efforts being recognized," says Zak Hemraj, Loopio's Co-founder and CEO. "Our focus on employee growth and wellbeing has been integral to driving Loopio's success."
Loopio was founded by three friends (Zak Hemraj, Matt York, and Jafar Owainati) in 2014 with one mission in mind: to build a great, enduring company. Since then, Loopio has grown to 200 employees, serving more than 1,000 customers globally. The company has been ranked several times as one of Canada's fastest growing companies by Deloitte's Technology Fast 50™ Awards, and it has a GlassDoor rating of 4.9/5. Loopio raised $9M in Series A funding from OpenView Venture Partners in 2018, and a $200M strategic investment from Sumeru Equity Partners in 2021, to accelerate its growth.
Read More: Check Point Software Technologies Named A Worldwide Major Player In Modern Endpoint Security For…
Write in to psen@itechseries.com to learn more about our exclusive editorial packages and programs.