Miller Heiman Group Launches Sales Analytics Platform Linked to Major Methodology Update
Scout by Miller Heiman Group, powered by the new Strategic Selling with Perspective methodology, helps sellers "see the move that moves the deal"
Miller Heiman Group launched a new sales analytics platform today that combines the company's iconic Strategic Selling methodology with powerful technology to recommend the next steps sellers should take to close a deal.
Scout by Miller Heiman Group, powered by the Strategic Selling with Perspective sales methodology, leverages data and analytics to predict which seller actions will improve the odds of winning. The subscription-based software utilizes the Strategic Selling Blue Sheet – a strategic analysis tool for managing complex sales – in a cloud-based, mobile-first platform that guides sellers through the methodology and provides suggestions for active opportunities.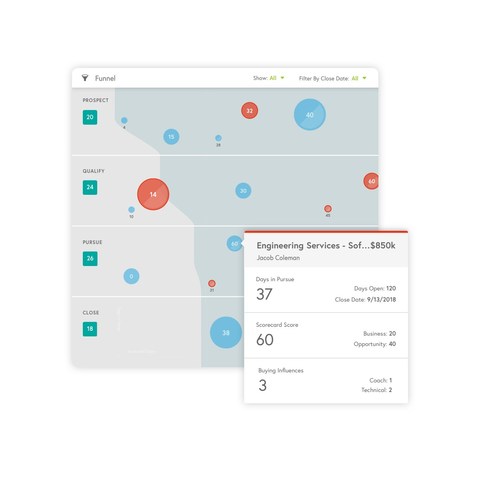 Read More: Using Technology as the Basis for Building the "Path to Sales Mastery" May Be a Bit Ambitious
The introduction of Scout comes as part of the biggest update to Strategic Selling in decades. Now called Strategic Selling with Perspective, the methodology includes new approaches that help sales teams bring insights and expertise to buyers throughout the sales cycle. The methodology continues to put the customer at the center and directly addresses the struggle salespeople have to distinguish themselves as trusted partners and problem-solvers in the eyes of buyers.
The combination of proven sales methodology and technology built for sellers addresses many of the frustrations organizations still have with CRMs. Scout can be used as a standalone product or integrated with an existing CRM via two-way web services integration to improve data quality.
Read More: With Automation and AI, the Human Side of Selling Is Fast Becoming a Unique Skill Set
"Today's sales technology isn't helping sellers close more deals," said Byron Matthews, president and CEO of Miller Heiman Group. "Unfortunately, many sales reps still see CRM as an administrative task and a mandate that's taking time away from selling. We developed a solution that helps sellers win more and specifically reinforces their sales training in the moment. It exchanges the CRM stick for a carrot and incentivizes sellers to embrace technology."
In addition to driving seller actions, Scout gives sales managers real-time insights into opportunities to more effectively coach sellers in a structured and personalized way. The platform also shows sales leaders the seller activity that most closely correlates with higher win rates, larger deal sizes and faster close times, enabling them to replicate best practices across the organization.
Read More:  Criteo Invests $23.2 Million in Paris AI Lab to Define the Advertising Technologies of the Future
"Scout helps sellers see the move that moves the deal," said Dana Hamerschlag, chief product officer at Miller Heiman Group. "The technology offers helpful data-driven suggestions to sellers and sales leaders based on the strategies that have proved effective for decades. Investments in technology without alignment to a sales process often disappoint. We are arming sales teams with a direct link between technology and methodology that drives transformational change in performance."
For four decades, the Strategic Selling framework and the Blue Sheet have provided sales organizations a repeatable, consistent and scalable framework for winning complex sales that involve multiple decision-makers. Expanding this proven methodology, Strategic Selling with Perspective arms teams with an approach to add value earlier in the sales process and better distinguish themselves with buyers. Scout encourages adoption of the methodology at each stage of the sales process.
Read More:  Fake Artificial Intelligence (AI) Vs. Real AI: How To Tell The Difference Between The Scammers & The Real Deal
"Buyers are getting better at buying faster than sellers are getting better at selling," Matthews said. "To win in today's changing selling environment, sales professionals have to provide 'perspective,' whether that's relevant research, an alternative solution or an unconventional idea. They must bring a point of view that challenges the customer to think about their objectives in a different way."
Scout is available through a SaaS subscription, and 12 months of access is included for all sales professionals who complete the Strategic Selling with Perspective course. To learn more about Scout, Strategic Selling with Perspective and Miller Heiman Group, visit millerheimangroup.com.
Read More: Using Technology as the Basis for Building the "Path to Sales Mastery" May Be a Bit Ambitious