Celerant's Retail Software Now Integrates with Fortis™ (Formerly FortisPay) to Offer Retailers Omnichannel Payment Options
Retailers can process transactions and centralize payments from all retail channels, including their store, events and website
Celerant Technology, a leading provider of innovative retail solutions, announced a partnership with Fortis (Formerly FortisPay), a leading payment and commerce technology provider. By integrating Celerant's point of sale and eCommerce software with Fortis, merchants can accept all major forms of payment, centralize sales and customer data from all channels, and process transactions quickly and securely with competitive pricing and no hidden fees.
Read More: SalesTechStar Interview With Yair Areli, Senior VP Global Sales At DataRails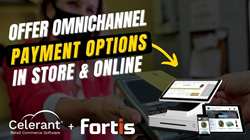 "Celerant has supported the retail industry for many years, and our partnership is a natural fit," stated Greg Cohen, Chairman and CEO at Fortis. "In today's world, merchants really need to provide the flexibility, speed and security their customers demand. Celerant provides all the right tools that retailers need, and we believe integrating our commerce payments platform with their software is exactly what clients need to be even more competitive in the new year."
Celerant's all-in-one retail software enables retailers to manage their entire business in a single place, including their store, mobile events, and online sales. By integrating with Fortis, merchants can have payments easily accepted and processed directly with next-day funding- making reconciliation quick and seamless. Fortis' proprietary, omnichannel platform, together with Celerant, is easy to setup, and delivers a secure and reliable commerce experience to all customers- no matter how they pay- and offers tools to help retailers drive business optimization, reduce chargebacks and increase revenue.
"With more and more retailers expanding their businesses online, and industry trade shows back on schedule, it's important to have multichannel payment options that can process transactions in any environment," stated Ian Goldman, President and CEO at Celerant Technology. "Fortis is well-known in the industry, and partnering with them provides our retail clients with yet another great option to process payments."
Celerant offers two retail solutions that integrate with Fortis – Cumulus Retail™, an affordable and powerful point of sale and eCommerce solution for small business; and Stratus Enterprise™, a custom omnichannel platform with advanced features.
2022 Special: Celerant is offering point of sale and eCommerce with first month SaaS free, plus 20% off training, 10% off hardware, and free credit card processing devices*. Offer ends 3/31/2022.
Read More: Celerant Technology® Ranked #1 Overall Retail Software Provider On The 2022 RIS Software…
Write in to psen@itechseries.com to learn more about our exclusive editorial packages and programs.